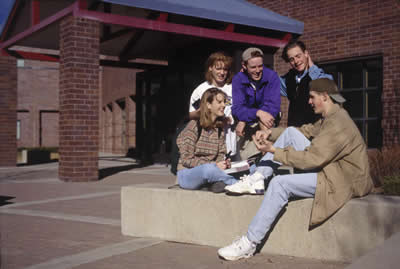 From a student at the School-Based Wellness Center Identity Program:
I came to Montgomery County when I was 11, and within 6 months, I was speaking English pretty well, but I wasn't really interested in school, classes were a struggle. Things changed for me the summer before high school when I got involved in Identity's 21st Century summer program. It really helped me to become a better student by not just giving me extra help in math but giving me the confidence to know I could accomplish it, and that I had support when I needed it. That support came from positive youth development staff at the Identity-run Gaithersburg High School Wellness Center, and one staffer in particular. He was always there for me helping me out. I went from being an average student to a 3.0 student. I was eligible to play sports, and I was able to get my sports physical at the Wellness Center Health Clinic so I was able to try out for the soccer team! I won spots on the school soccer team during both freshman and sophomore years and became one of the team captains.
Then came Junior year and I was on the cut list. I didn't make the team and it was devastating. But Identity pushed me forward. When I told Wellness Center counselor, his good advice was to "try something new." He helped me open my eyes, and I became involved in dancing. Now I'm part of the Latin dancing team for my high school, called Sabor Latino, and next year I'm going to be a captain. All because I tried something new. We're number one in the county. I've performed at the Strathmore, and at the Kennedy Center. In a way, Identity helped me find my passion. I can't describe the words to the emotion I get every time I perform in front of people.
From a Northwood High School Student:
My experience in the wellness center has been life-changing, to say the least. Since being invited into this space I have grown tremendously as a person and a student. My high school experience has been altered in so many positive ways and I have acquired so many valuable skills that I will take with me everywhere. The numerous resources offered there are extremely helpful and beneficial. Some of my favorite resources being the groups, activities and therapy that's offered, like 'Girls Talk' where we learned about drugs, healthy coping mechanisms, and establishing healthy relationships with people. Or the student advisory council that I'm apart of that allows us to be the student voices for change in our school community, specifically as it relates to mental health. But truly, it is the adults who work in the wellness center that make it what it is. They are accommodating, warm, and inviting but most importantly they don't see us as "just teenagers", they see us as humans with experiences that are never invalidated. Which, in my experience, has made the advice that they give me that much more authentic and genuine. Every day when I walk in the center is flooded with students, some of who don't even need assistance but are there because they feel safe, seen, and heard. I remember walking in one day overwhelmed with life and walking out feeling like a weight had been lifted off of my shoulders. I walked in and wasn't sure who to go to for help, but it wasn't something I had to ask for, it was like they just knew. I was greeted immediately with a bright smile and was then invited into one of their offices where I was able to walk through and process my emotions. My harmful mindset was instantly shifted. I will never forget that specific encounter because it meant more to me than anyone will ever know. These are the kinds of conversations and people that have been so vital to my experience, not just to rant to, but to teach me valuable things that I have been able to apply to my life, which has in turn allowed me to live a more positive and stress-free one. I am now able to separate my thoughts from my emotions/actions and observe them before internalizing any thought or mindset that is not serving me, my future, or my purpose. Everyone needs someone and when you feel like you have no one you always have someone who genuinely cares in the wellness center. Someone who will listen and help you grow in more ways than one. It is the kind of place that students have gravitated towards because they can feel the positivity that radiates from it and everyone who is a part of it.
More Student Sharing:
Help Dealing with the high school years