The Maryland Assembly is an advocacy organization that promotes school-based health care as a means to advance the belief that all Maryland children and youth have a basic fundamental right to access and receive comprehensive, quality health care.
School-based health care represents an essential strategy toward improving the lives of Maryland's children and their families and optimizing their ability to become contributing members of society. School-based health care addresses the unique needs of children and youth and increases access to medical, mental, dental and/or other health related services.
MASBHC's biggest initiatives include our participation in Hallways to Health through the School Based Health Alliance, our annual conference, and our advocacy work.
Looking for continuing education opportunities including the School-Based Health Alliance's Adolescent Health ECHO Clinic? Visit our Current Events page!
---
 2019 Annual Conference
Thank you to all attendees and presenters for making the day a great success.
---

MASBHC Board member honored with a House Resolution from the Maryland House of Delegates

Barbara Masiulis, MS, CRNP and longtime MASBHC Board member honored with a House Resolution from the Maryland House of Delegates
June 3, 2019: At the quarterly meeting of the Council on the Advancement of School Based Health Center, Delegate Bonnie Cullison from District 19 presented Barbara Masiulis with a House Resolution in honor of her many years of service to Baltimore County Public Schools as the supervisor of the country SBHCs and her service as Vice Chair of the Council.

Barb has been a long time member of MASBHC and has served on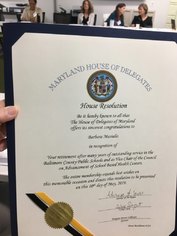 the Board and held multiple leadership positions in MASBHC over the last 15 years.  Most recently, she chaired the committee responsible for the highly successful MASBHC annual conference, "Building Bridges to Support Successful Students," held in May 2019.   
She is retiring at the end of this school year and will be relocating to Florida.   Her dedication, hard work and passion for SBHCs and the patients she cared for will be missed.  She is an inspiration and a role model for all of us who know her.  We wish her nothing but happiness and health as she moves into this next phase of her life.