The Maryland Assembly is an advocacy organization that promotes school-based health care as a means to advance the belief that all Maryland children and youth have a basic fundamental right to access and receive comprehensive, quality health care.
School-based health care represents an essential strategy toward improving the lives of Maryland's children and their families and optimizing their ability to become contributing members of society. School-based health care is addresses the unique needs of children and youth and increases access to medical, mental, dental and/or other health related services.
MASBHC biggest initiatives include our participation in Hallways to Health through the School Based Health Alliance, our Annual Conference, and our Advocacy Work. 
2019 Annual Conference
MASBHC's 2019 Annual Conference, Building Bridges to Support Successful Students, will be held on Thursday May 16th at The Meeting House in Columbia, Maryland. MASBHC is honored to welcome Dr. Jess Shatkin, a Child and Adolescent Psychiatrist from NYU Langone Medical Center and the author of many books, journal articles on child and adolescent mental health and pediatric sleep. Dr. Shatkin's keynote will be focused on risky behaviors and his workshop presentation will be on pediatric sleep issues.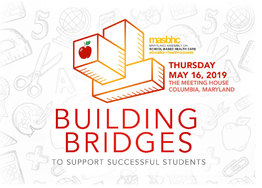 A second keynote will include a panel discussion on Population Health and School Based Health Centers in Maryland lead by Dr. Cheryl Duncan DePinto, Director of the Office of Population Health Improvement, Maryland Department of Health.
This year's conference will feature eight workshops on timely issues impacting school-based health care:
Sleep Issues in Children
Engaging Adolescents: Assessing Risk and Resilience
Childhood Obesity/Nutrition
Asthma Management Update
Suicide Prevention Strategies
Care Coordination, Connecting Managed Care Organizations
Motivational Interviewing
Innovations in School Based Health Care

REGISTRATION:
Early Bird Registration (before 5/6): $125
Registration (after 5/6): $140
Day of Conference: $145
Group Registration of 5 or more attendees save 10%