Welcome Back!

The Maryland Assembly on School Based Health Care would like to wish you and your students a wonderful 2017-2018 school year! Below you will find some helpful resources as well as opportunities for professional development that you may be interested in, or know someone that is! We will be bringing you more information like this in our monthly newsletter throughout the school year. So stay tuned!
Wishing you all the best for a successful 2017-18 school year from the Maryland Assembly on School Based Health Care's Staff and Board of Directors!
---
Start the School Year Off Right: Complete your SBHC Census Today!

The back-to-school season is the PERFECT time to to complete your Census survey. As students fill up the hallways with fresh energy, we hope you too will return to your SBHC rejuvenated from the summer holiday.
If you want to start your school off right we're asking that you take 15 minutes to complete the 2016-17 National School Based Health Care Census– it is incredibly short and easy to complete.
Ever more good news – respondents can enter performance measure data into the same portal as the Census. One stop: report two sets of data at once!
School-based health care programs that complete the census help their communities obtain federal, state, and private funding
Census information helps policymakers and funders understand which communities need new SBHC programs and which programs need additional resources.
Will these decision makers be able to tell what YOUR neighborhood needs?
 (or to check the status of your schools census)
We are working towards 100% Census completion for Maryland SBHCs
and we need your help to do so!
Questions? Send an email to census@sbh4all.org
---
MASBHC Webinar Series: Clinical Summary: Meningococcal Serogroup B
On Thursday October 5th at 12pm please join us for the first of the MASBHC Webinar Series of the school year.
We will welcome Elizabeth Thoburn, Vaccines Medical Director for Pfizer, to discuss the Meningococcal Serogroup B (Men B) infection and vaccine. The webinar will focus on the clinical aspects of the infection as well as what providers can do to educate high school seniors about the infection and steps to take to protect themselves. Register here! 
---
SAVE THE DATE

MASBHC's 2018 Annual Conference
Thursday May 17th, 2018
The Meeting House 
Columbia, MD 
---
Maryland Homegrown School Lunch Week: September 25-29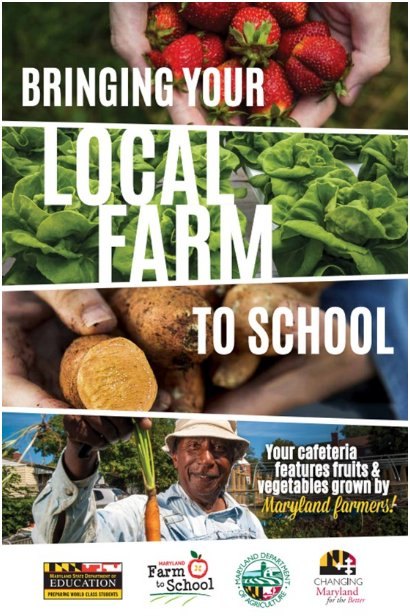 "Farm to School" is a term which strives to bring locally produced foods into school cafeterias; hands-on learning activities such as farm visits, producers visiting schools, school gardening, and culinary classes; and the integration of food-related education into the standards-based classroom curriculum.
Maryland was the first state in the nation to have every public school system participate in the Maryland Homegrown School Lunch, an element of the Maryland Farm to School program. Maryland schools spent $18 million on local food served in schools according a recent USDA Farm to School Census.
For more information and resources and to see how you can participate in Maryland's first ever Homegrown School Lunch Week click here.